京都


Kyoto during feudal times, I'm assuming.
It has a town setting with a court.
The walking characters' sandals make noise.

Characters

Buddha Guy: A man dressed like Buddha. He walks very fast. Sometimes there are more than one.

Bull: A bull that walks on two legs.

Bull with Cart: A variation of the bull pulling a cart.

Japananese Woman: A woman wearing a kimono. She walks in different directions.
Sometimes she is huge. Sometimes there are more than one.

Nodding Person: I am not sure what this is. It lives in the water.

Waitress: A woman who hurries out of a doorway. She clips through objects.
Old Woman: She is sitting in a building. She moves slowly.

Giant Monster: This enormous thing starts out of bounds but eventually walks overhead.
It doesn't have any feet, so you can't link with it.
White Fox: It runs away immediately after it appears. It's too fast to link with.

Tengus: They have long noses. They fall from the sky and run down the street.

Statue Pieces: Large pieces of a Buddha statue are scattered throughout the town.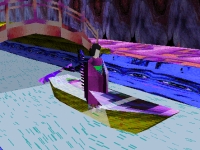 River Boat: A person rowing a standing woman down the river.

Ghost: A robed ghost that flies near the ground and in the sky.
Peacock: When it sees you it displays its feathers.

Person with a Ball: Someone kicking a ball.
Sometimes there are two people.

Geisha: A japanese woman with a fan.
Man balancing on chairs: A man balancing on a long stack of chairs.


---
自然界


This area is huge!
There are plains, large bodies of water, canyons with bridges, deserts...

Characters
Fish: They blow colored bubbles and live in the rivers.
One always seems to appear in the ground. They cannot be linked.
Huge Fish: Like the others, but enormous.
If you walk under it a certain way it will link you.

Birds: They fly overhead and cannot be linked with. They sound like a train.

Rainbows: These show up sometimes. They don't do anything? Sometimes they spin.

UFO: It hovers around in the sky. It cannot be linked.

Turtle: A huge turtle lives in the desert area.
If you walk into it, it shrinks.
Men with Camels: A mirage of men with camels appears sometimes in the desert.
It is only a texture so they probably cannot be approached.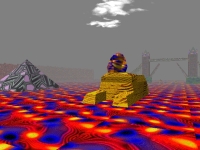 Monuments: Monuments from many nations are together in a park. They don't do anything.

Man with Child: A man is holding hands with a little girl in the distance.
It is also only a texture. I have never been close to them.

Window on a Hill: A closed window can sometimes be seen on a hill.
If you run up to it it will face you and link you.

Sunken Ship: A ship that sank in that horrible flashing water.

Lions: Two lions with scary faces roam the plains.
Sometimes if you walk into them you get pushed back, other times you will freeze and they will kill you.

Missile: A missile is launched from the ground in the grassy area.

Violence District?: A small model of the Violence District.


---
HAPPY TOWN
A toyland with colorful textures and cartoon characters.
There is a train and a castle here.

Characters

Singing Figure: A figure who waves his hands (he is armless) and has a pyramid for a head.
He sounds like he is singing. He is standing on a tower and cannot be linked.

Marching Soldiers: Tiny people that march loudly in a line.

Mushrooms: A group of mushrooms that wiggle around.

Train: A train with a face that travels on the tracks.
Sometimes it has the LSD "mascot" face.

Dancers: A man and woman who dance together in the castle.
They might be the king and queen.
Bear and Rabbit: The bear is the same one from the 明月荘 place.
They dance together.

Flowers: Overjoyed flowers with faces that stay in one spot and wiggle.
Sometimes they are huge.

Penguins: Some walk, some slide on their bellies.

Trumpeters: Soldiers with trumpets. Very loud and repetitive!

Ferris Wheel: A working amusement ride. If you link with it, a film plays.


---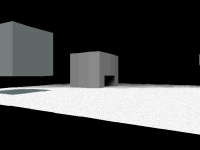 Mystery Place: Black and White Area
This place is in black and white.
There are cubes floating in the sky and the ground is black with a white center.
It is very rare to get linked here.

Characters
Girl with Hoop: A little girl playing with a hoop.
She is by herself and is the only thing in this area.


---
Mystery Place: Machinery Rooms
Two rooms are connected to eachother.
One has gears and pistons that move when you approach them.
The other has a model of something that spins around.
Sometimes one or both of these things are missing.

Characters

Model Machine: Is this a model of the universe?
If you look up at it, a film plays sometimes.


---
Mystery Place: Long Hallway
A long hallway. When you get to the end, the walls fall away.
You walk into the empty sky and link.


---
Mystery Place: Pagoda Interior
A long staircase leads to the top of a pagoda.
There is nothing else here except a giant moon in the distance.